Large Size Finishing Tools - CoreHoggers - Powdered Metal
Composites - Honeycomb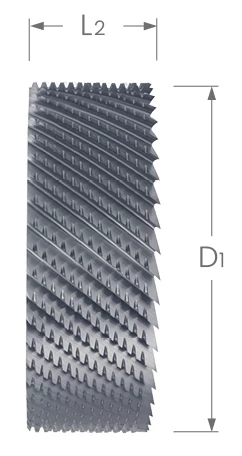 Comprised of heat treated powdered metal for high material removal rates, this offering of Large Size Finishing Tools - CoreHoggers - Powdered Metal are optimized for large volume MRR of honeycomb core materials.
Must be paired with Large Coreslicer and Arbor for use. For proper pairing, reference "Assembly Size Pairing" below
Optimized for large volume material removal of honeycomb core materials
Heat treated powdered metal for high MRR
Standard 40° helix
TiCN coating for extended tool life and improved wear resistance
DLC coating for optimal performance
Ground from specially matched powdered metals
Precision manufactured in the USA
Complete assembly consists of Large Size CoreHogger, Large Size Coreslicer, and Large Size Arbor. Find these below in Related Products.
Advanced Search
Diameter
Length of Cut
Assembly Size Pairing
TiCN Coated
DLC Coated
Add to Cart
D1
L2
Tool #
Price
Reference
Tool #
Price
Reference
* 3° Helix
Thank you for your review. It has been submitted to the website administrator for approval
Thank you for your review. It has been submitted to the website administrator for approval